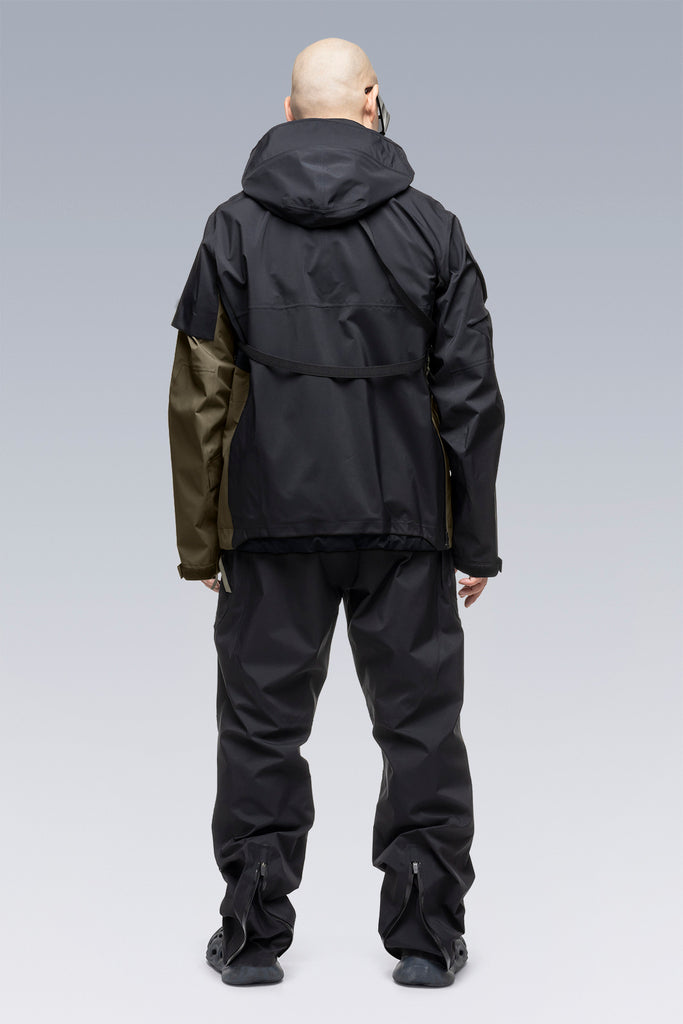 J1WTS-GT RAF GREEN / BLACK
ACRONYM
3L Gore-Tex Pro Interops Jacket
Gen. 1
Hardshell
The very idea of ACRONYM rendered in physical, wearable form. A carefully balanced array of functional and aesthetic systems presented here in completely remastered form, and, for the first time, with TEC SYS webbing. Asymmetric. Dynamic. Modular. ACRONYM among equals.
Combine with 3A-1, 3A-2, or 3A-3TS for full INTEROPS functionality.
Built with enhanced Gore-Tex® Pro most breathable technology** to provide extreme breathability—minimizing moisture buildup to give more comfort in more conditions—with retained ruggedness, uncompromised waterproof and windproof protection, and superior lightweight qualities with an improved environmental footprint.
[ **Optimized for breathability during higher-intensity activities, while retaining the ruggedness and waterproof ratings for which Gore-Tex® Pro is known. This technology newly introduces the lightest laminates ever offered in the Gore-Tex® Pro category, using 30-denier face textiles and the new solution-dyed version of the robust Micro Grid™ backer. ]
[ Shown in size: M. Fits: WIDE ]
Fabric technology
3L GORE-TEX® PRO [Most breathable technology]
(72% PA, 28% ePTFE)
With solution-dyed Micro Grid™ backer for improved environmental footprint
GUARANTEED TO KEEP YOU DRY™
Sizing
| | | | | | |
| --- | --- | --- | --- | --- | --- |
| Size | XS | S | M | L | XL |
| 1/2 Chest | 62,5 | 65,5 | 68,5 | 71,5 | 74,5 |
| Length | 70 | 72 | 74 | 76 | 78 |
| Shoulders | 15 | 15,5 | 16 | 16,5 | 17 |
| Sleeves | 65,5 | 67,5 | 69,5 | 71,5 | 73,5 |
All measurements in centimeters.
Weight: 880g (size M, including removable parts)
Systems
ACRONYM INTEROPS (PAT.)
ACRONYM SOUND (PAT.)
ACRONYM TEC SYS
TEC SYS GRID:
Rows: 4
Channels: 10
Subsystems
ForceLock
JacketSling
EscapeZip
SpeedLock
Gravity Pocket
AuxZip ( F )
Pockets: 9
_External: 9
_Internal: 0
Includes
ForceLock [ Removable ]
JacketSling[ Removable ]
Storm Hood [ Removable ]
Logo tape [ Removable ]
Interface with
All ACRONYM INTEROPS bags
All ACRONYM 3RD ARM Modular [ M ] pockets
All ACRONYM AuxZip ( M ) units
Related Products